Shaq Supports Lisa Domnarski Memorial Fund For New Palmer Track
On July 19, 2019, Palmer resident Lisa Domnarski fell from the second floor of her barn and broke her neck.
After receiving care at Baystate Health, Lisa was responsive, but paralyzed from the neck down. Within a couple days, Lisa was able to communicate with her husband, Matthew Domnarski, through the use of an erasable sheet.
Unfortunately, Lisa's condition did not improve.
On July 23, Lisa asked to remove the ventilator and tube so she could say goodbye to her family and friends.
Matthew shared on Facebook, "It's just her & me like she requested & I'm holding her hand. It could be minutes or days but I am now staying until her last breath. We all did not want to lose her but be at peace that she is now in comfort and going the way she always talked about with me & others & by her choice."
Lisa passed away on July 24.
However, Lisa had one final request.
"Lisa spelled out to me on the alphabet board when I asked her about flowers NEW TRACK," Matthew shared on Facebook. "She was always pissed that her two boys had to run on a [obscenity] track at Palmer High School in Palmer Massachusetts. We had already talked about how expensive a new rubberized track would be and how fifficult it would be able to pay for it in our small town. I was Class or 84, Lisa 86, Henry 2016 & Ben 2019. All of us had run track for PHS."
Now, Matthew has started a fundraiser on Facebook to raise the $500,000 needed to replace the Palmer High School track.
Word of the fundraiser has spread, pulling in over $82,000 within two weeks. And it appears it's caught the attention of a certain celebrity.
Country Bank, which has assisted in collecting donations for the fund, received a letter from Boulevard Management on behalf of Shaquille O'Neal.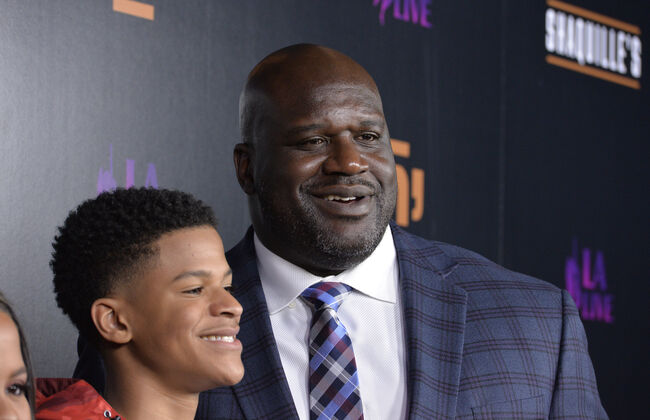 The letter reads:
"Upon learning of Lisa Domnarski's recent tragic fall and subsequent passing, Mr. O'Neal was touched and has expressed interest in helping to realize Lisa's dream of building a new track at Palmer High School - one that bears her name in remembrance and in thanks for her final wish.
As a former professional athlete, Mr. O'Neal recognizes the importance on having adequate equipment to realize one's potential in athletics, and also in every aspect of life. Palmer deserves... functioning equipment.
Please accept the enclosed check in the amount of $2,500 from Mr. O'Neal's corporation."
Lisa's family was touched by the gesture, sharing the news on social media.
With Shaq's contribution, the family has collected over $90,000 between online donations and collections at Country Bank branches.

Web Trending News
Want to know the biggest news trending on the web? Check out Web Trending News!
Read more